William Madrigal and the Traditional Cahuilla (kaweeyah) Bird singers
William Madrigal and the Cahuilla Bird singers and dancers are a group that is part of a long, inter-generational tradition of culture bearers within the local California Indian community. Will and his family are members of the Cahuilla Nation of Southern California, a federally recognized Indian nation. Through life-long commitment, they have been given the gift of bird singing through oral teaching from the elders of the reservation community. They adhere to the strict protocol of the Cahuilla culture in regards to public expression and presentations. The bird songs and dances are a celebration of life for all peoples and are sung throughout southern California today.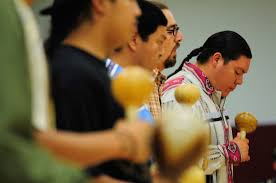 ---
Grupo Sotz'il
Grupo Sotz'il was founded 17 years ago in El Tablón, Sololá, Guatemala. The 8 member ensemble of young Kaqchikel and Mam multidisciplinary artists is dedicated to researching, creating, and promoting Mayan knowledge and arts that have been persecuted since the Spanish invasion of 1524, during 36 years of genocidal war (1960-1996), and in the current socio-political  context of neocolonial violence against Guatemala's 24 Indigenous nations. The ensemble performs with the intent of presenting their long suppressed Mayan history and culture to eyes and ears across the globe. Grupo Sotz'il's art reflects the present and envisions the future, with firm roots in the wisdom and knowledge of their ancestors.
http://www.gruposotzil.org.gt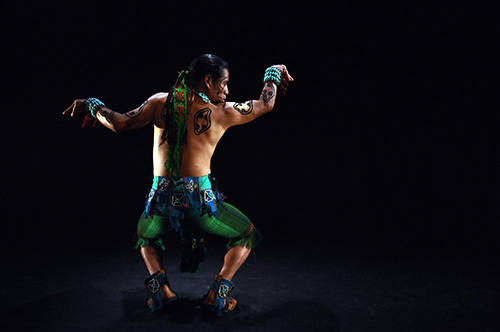 César Guarcax in role of K'aslemal in Uk'ux Ulew, photo by Victorino Tejaxún Alquijay
---
Louise Potiki Bryant
Louise Potiki Bryant is a choreographer, dancer, and video artist of Māori (Ngāi Tahu, Kāti Mamoe, and Waitaha) descent. She is a founding member of Atamira Dance Company with whom she has choreographed six works, including NGĀI TAHU 32 ('Best contemporary dance production 2004', NZ Listener), and TAONGA: Dust Water Wind (Best Production, Best Music, and Best Scenography awards, Tempo Dance Festival 2010). Her practice is inspired by Māoritanga and with her work she aims to honour mana wahine (the power of women). Louise also has a strong body of solo and collaborative works which draw upon her interdisciplinary and whakaahua dance practices.
https://www.nzdc.org.nz/node/louise-potiki-bryant/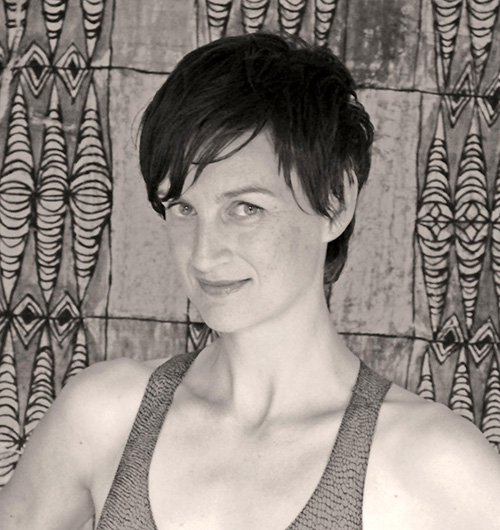 ---
Jack Gray
Jack Gray is a New Zealand Maori contemporary dance artist of Te Rarawa, Ngāpuhi, Ngāti Whātua, Ngāti Kahungunu and Ngāti Porou descent. Jack became the Artistic Director of Atamira Dance Company in January 2018 and a Regent Lectureship Scholar at UCLA this Spring.
In the past two years he developed and toured I Moving Lab throughout the U.S, creating transformative community relationships through Intercultural Indigenous exchange.
Jack's major work with Atamira includes a full length dance work Mitimiti made over five years. Alongside his choreographic work he has published articles in dance and academic publications (in collaboration with Professor Jacqueline Shea Murphy) and has been a cultural consultant, facilitator, dramaturg, rehearsal director and teacher (at UCR in Spring 2014).
https://www.atamiradance.co.nz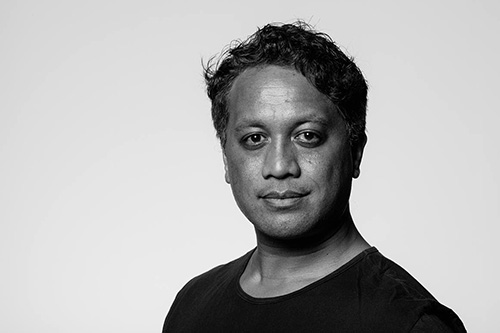 Jack Gray, image by Jinki Cambronero
---
Rulan Tangen
Rulan Tangen's work explores movement as an evolving language of intertribalism rooted in diverse indigenous cosmologies, in functional ritual for transformation and healing, animating decolonization process, integrating concurrent universes of ancient futurities in the moment of now, expressing energetic connection with all relations – human and beyond. As Founding Artistic Director/Choreographer of DANCING EARTH, she has passionately cultivated successive generations of Indigenous contemporary performing artists, and embodies her belief in dance as purposeful center of continuance of life. She is recipient of 2018 Kennedy Center Citizen Artist award and is grateful for all that roots her , supporting pathways to uncover, for the dreaming and doing of Dancing Earth : moving, shaking and stomping the world into renewal.
http://www.dancingearth.org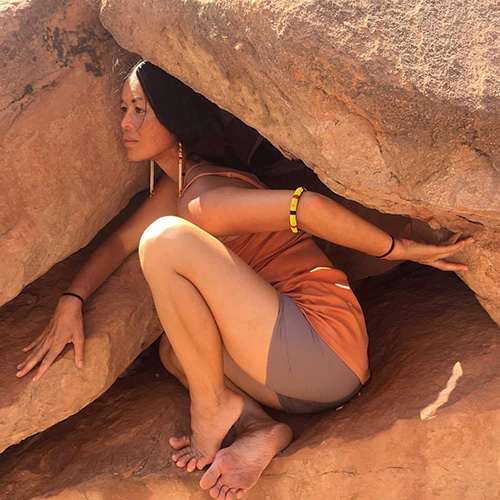 Photo by Uqualla for DANCING EARTH , location Abaachi lands
---
Ni'Ja Whitson
Ni'Ja Whitson is a gender nonconforming interdisciplinary artist, and has been a student and practitioner of indigenous African ritual and resistance forms for nearly two decades, creating work that reflects the sacred in street, conceptual, and interdisciplinary performance. They engage a nexus of postmodern and African Diasporic performance practices, through a critical intersection of gender, sexuality, race, and spirituality. Whitson is a Bessie Award winning performer, and writer, who has been referred to as "majestic" by the New York Times, and is recognized by Brooklyn Magazine as a culture influencer.  Recent awards include a Camargo Fellowship, Hedgebrook Residency, LMCC Process Space Residency, Bogliasco Fellowship, Brooklyn Arts Exchange Artist Residency, two-time Creative Capital "On Our Radar" award including being an inaugural recipient, among many other recognitions across disciplines. Ni'Ja Whitson is an Assistant Professor at UC Riverside and is the Founder/Artistic Director of The NWA Project.
www.nijawhitson.com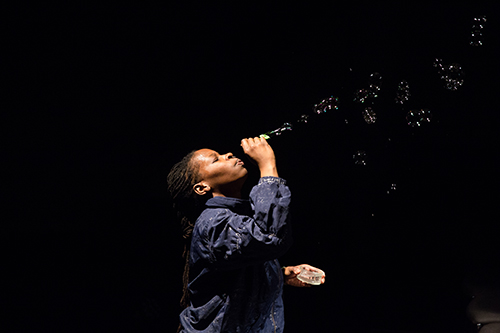 Photo Credit: Scott Shaw
---
Lukas Avendaño
"I was not born in a maternity ward. My mother gave birth to me without help of anyone. It happened on the Mexican Isthmus of Tehuantepec, the land where I grew up surrounded by other barefoot and "sodomitic" (as Spanish chronicles described us) Natives. And from this land I nourished myself to do what I call 'Installation for the Human Body.' Some call it a happening, others call it a sketch, and still others, a provocation. Perhaps the latter is closest, for my intention is to cut against homophobia with a courageous transvestism that flirts with dance and exhibitionism as it climaxes into the word. I do this from sensuality and life, from consciousness and the body, using the Native and the modern word to disturb orthodoxies of every stripe and to show how sensitivity cuts deeper than the presumed hardness of the hard.
I am well aware of the existence of borders created by politics, societies, cultures, and prejudices. This is why my corporeal installations propose borders as places of encounter, not separation; from this liminal state I stand at the vortex, with my two feet placed on both sides of being 'man/woman,' inhabiting reality/utopia, correct/incorrect. Perhaps this is the dichotomy that I like the most, the in/correct; here I feel free, full, true and alive. Because of this, it pleases me that my native culture not be so orthodox in the exercise of life; that is why those who visit Tehuantepec describe it as a society of matriarchs, the quasi-paradise for homosexuals, a totemic, and even 'primitive', place."
http://requiemparaunalcaravan.blogspot.mx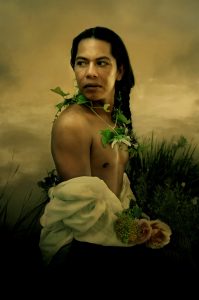 Photo credit: Mario Patiño, 2015
---
Sam Aros Mitchell
Sam Aros Mitchell is currently in the third-year of a PhD program in Performance Studies at UC San Diego/UC Irvine. He has an MFA in Dance Theatre from UC San Diego, and a BFA in Dance from UC Santa Barbara. Sam's research and practice focuses on the transformative work of First Nation and Native American dance/theatre artists, breaking boundaries, connecting land to body, and bringing Native communities to a place of healing. Sam is of Yaqui heritage, (enrolled, Texas Band of Yaqui Indians).
Sam has danced in contemporary dance companies, and has toured, both nationally and internationally for over 25 years. Recently, Sam has performed and collaborated with Rosy Simas (Seneca) and her company, Rosy Simas Danse with upcoming performances scheduled through 2019. Sam continues to choreograph, dance, teach and learn, within his own Yaqui community, and within the greater community of Native American and First Nation artists and scholars.
https://sammitchelldance.com
Lios em chaniavu!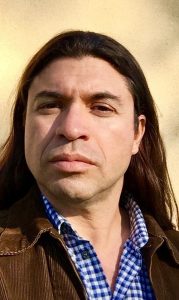 ---
Featured Photo: Grupo Sotz'il, Performance of Uk'u'x Ulew, Centreville, VA 2017
Photo credit: Tomás Alejo