William Madrigal and the Traditional Cahuilla (kaweeyah) Bird singers
William Madrigal and the Cahuilla Bird singers and dancers are a group that is part of a long, inter-generational tradition of culture bearers within the local California Indian community. Will and his family are members of the Cahuilla Nation of Southern California, a federally recognized Indian nation. Through life-long commitment, they have been given the gift of bird singing through oral teaching from the elders of the reservation community. They adhere to the strict protocol of the Cahuilla culture in regards to public expression and presentations. The bird songs and dances are a celebration of life for all peoples and are sung throughout southern California today.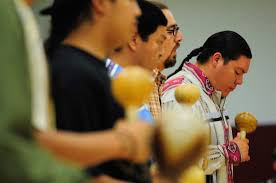 ---
Michael Madrigal
Michael Madrigal is a member of the Cahuilla Band of Indians from the Cahuilla Indian Reservation located near Anza, California. He has been a lay administrator at St. Joseph Mission at the Soboba Indian Reservation for the past 25 years. Growing up on the reservation Michael had the opportunity to learn about his tribal traditions from many elders including Katherine Saubel, Alvino Siva, Robert Levi, and Uncle Billy Mesa. Keeping vibrant the indigenous spiritual traditions of southern California tribes is one of his life vocations. Michael has also been president of the Native American Land Conservancy for the last eight years. The primary goal of the conservancy is to care for and preserve sacred landscapes for present and future generations, thereby honoring the ancient and ongoing relationship between Indigenous peoples and the land.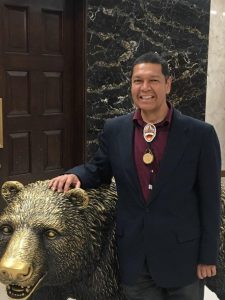 ---
Lukas Avendaño
"I was not born in a maternity ward. My mother gave birth to me without the help of anyone. It happened on the Mexican Isthmus of Tehuantepec, the land where I grew up surrounded by other barefoot and 'sodomitic' (as Spanish chronicles described us) Natives. And from this land I nourished myself to do what I call 'Installation for the Human Body.' Some call it a happening, others call it a sketch, and still others, a provocation. Perhaps the latter is closest, for my intention is to cut against homophobia with a courageous transvestism that flirts with dance and exhibitionism as it climaxes into the word. I do this from sensuality and life, from consciousness and the body, using the Native and the modern word to disturb orthodoxies of every stripe and to show how sensitivity cuts deeper than the presumed hardness of the hard. I am well aware of the existence of borders created by politics, societies, cultures, and prejudices. This is why my corporeal installations propose borders as places of encounter, not separation; from this liminal state I stand at the vortex, with my two feet placed on both sides of being 'man/woman,' inhabiting reality/utopia, correct/incorrect. Perhaps this is the dichotomy that I like the most, the in/correct; here I feel free, full, true and alive. Because of this, it pleases me that my native culture not be so orthodox in the exercise of life; that is why those who visit Tehuantepec describe it as a society of matriarchs, the quasi-paradise for homosexuals, a totemic, and even 'primitive', place."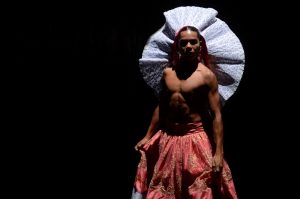 Photo credit: Edson Caballero Trujillo
---
Dakota Camacho
Dakota Camacho is a multi-disciplinary artist / researcher working in spaces of indigenous life ways, performance, musical composition, community engagement, and education. Guiya (they) ground yo'-ña (their) creativity in ancestral life ways. Born and raised in Coast Salish Territory, Camacho's work weaves knowing from both yo'-ña bloodlines and the diverse lineages that inform yo'-ña indigenizing journey. The work aims to proliferate inafa'maolek — unifying human consciousness with the natural world, restoring balance with the elements, and living with life force.
---
Ernesto Colín
Dr. Ernesto Colín is a visual artist, Aztec dancer, and Associate Professor in the Department of Teaching & Learning at Loyola Marymount University in Los Angeles, California. He holds B.A.'s in Chicana/o Studies and Spanish, and an M.A. in Secondary Education. He received his PhD in Anthropology of Education from Stanford University and his research interests include indigenous education, culturally responsive pedagogy, and teacher education. His latest book, Indigenous Education Through Dance and Ceremony (Palgrave), is a long-term ethnography of an Aztec Dance group in California.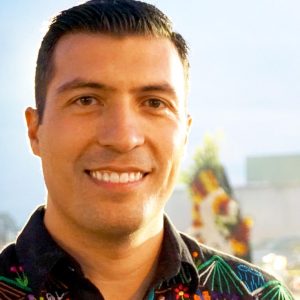 ---
Jack Gray
Jack Gray is a New Zealand Maori contemporary dance artist of Te Rarawa, Ngāpuhi, Ngāti Whātua, Ngāti Kahungunu and Ngāti Porou descent. Jack became the Artistic Director of Atamira Dance Company in January 2018 and a Regent Lectureship Scholar at UCLA this Spring.
In the past two years he developed and toured I Moving Lab throughout the U.S, creating transformative community relationships through Intercultural Indigenous exchange.
Jack's major work with Atamira includes a full length dance work Mitimiti made over five years. Alongside his choreographic work he has published articles in dance and academic publications (in collaboration with Professor Jacqueline Shea Murphy) and has been a cultural consultant, facilitator, dramaturg, rehearsal director and teacher (at UCR in Spring 2014).
https://www.atamiradance.co.nz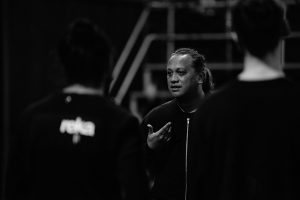 ---
Wesley Y. Leonard
Wesley Y. Leonard received his Ph.D. in Linguistics at the University of California, Berkeley, and is currently an assistant professor of Ethnic Studies at the University of California, Riverside. His primary research examines and theorizes sociopolitical factors that are intertwined with Native American language endangerment, documentation, and reclamation. A citizen of the Miami Tribe of Oklahoma, he focuses in particular on the reclamation of his tribal nation's language, myaamia (Miami), and on building capacity for Native American languages in ways that support tribal sovereignty and survivance. A collaborative project that he co-chairs, Natives4Linguistics, promotes Indigenous needs and intellectual tools as ways of doing linguistic science. His work has appeared in scholarly outlets including the American Indian Culture and Research Journal, Gender and Language, Language Documentation & Conservation, and Language Documentation and Description.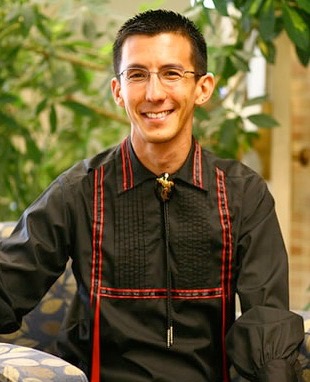 ---
Cynthia Ling Lee
Cynthia Ling Lee is a Taiwanese American performance troublemaker who instigates queer, postcolonial, and feminist-of-color interventions in the field of  Asian diasporic performance. Trained in North Indian classical kathak and US postmodern dance, she is committed to intimate, ethical collaborative processes and foregrounding marginalized voices and aesthetics. Cynthia's interdisciplinary choreography has been presented at venues such as Dance Theater Workshop (New York), REDCAT (Los Angeles), Painted Bride Arts Center (Philadelphia), Links Hall (Chicago), SZENE Salzburg (Salzburg), Taman Ismail Marzuki (Jakarta), and Chandra-Mandapa: Spaces (Chennai). Recent publications include co-written chapters with Sandra Chatterjee in Dance Matters Too: Markets, Memories, Identities (2018, Routledge) and Queer Dance: Meanings and Makings (2017, OUP). Cynthia was the recipient of a Thomas J. Watson Fellowship, an Asia-Pacific Performing Arts Exchange Fellowship, a NET/TEN grant, a Taipei Artist Village Residency, and a Hellman Fellowship. Influential teachers and mentors include Simone Forti, Eiko & Koma, Judy Mitoma, Pallabi Chakravorty, Bandana Sen, Kumudini Lakhia, Anjani Ambegaokar, and the contact improvisation community. Cynthia is an assistant professor of dance in the Department of Theater Arts at UC Santa Cruz and a member of the Post Natyam Collective. www.cynthialinglee.com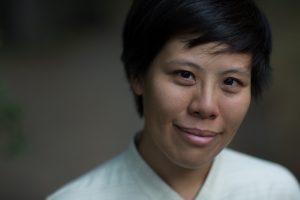 ---
S.J Norman
S.J Norman (b. 1984) is an inter-disciplinary artist and writer. Their artistic trajectory has so far spanned 13 years and has been informed by a diverse range practices, disciplines and methodologies, and incorporates solo and ensemble performance, installation, sculpture, text, video and sound.  Working extensively with durational and endurance practices, as well as intimate/one-to-one frameworks, Norman's primary medium is the body: the body as a spectacle of truth and a theatre of fantasy; a siphon of personal and collective memory; an organism with which we are infinitely familiar and eternally estranged; a site which is equally loaded and empty of meaning, where histories, narratives, desires and discourses converge and collapse. They are a non-binary transgender person and a diasporic Koori, born on Gadigal land (with familial and ancestral connections to Wiradjuri, Wonnaruah and Ngyiampaa lands); as such, their practice is routed through the volatile interstices of the social and the corporeal. Norman seeks through much of their work to implicate the body of the audience and the body of the performer as co-agents in magickal acts, through which they seek to forge hybrid languages of ritual and queer de-colonial knowledge-making.
Norman has toured, exhibited, performed and spoken about their work at Venice International Performance Week (IT), Spill Festival of Live Art (UK), Fierce Festival (UK), In Between Time (UK), Arnolfini (UK), Performance Space, Sydney (AU), the Australian Experimental Art Foundation (AU), , Melbourne Festival (AU), Dancehouse (AU), Tarnanthi Festival of Aboriginal and Torres Strait Islander Art (AU) and Tate Modern (UK), the Science Gallery London (UK), Die Fabrikanten (AT), Liveworks (AU), and Performance Space New York (US) to name a few. They have received numerous honours for both their art and their writing, most recently a Sidney Myer Creative Fellowship.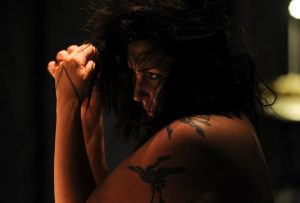 ---
P. Dante Cuauhtémoc
P. Dante Cuauhtémoc (Mescalero Apache, Mexika-Chichimeca/Cano ) is a fourth-year Critical Dance Studies Ph.D. student at the University of California, Riverside (UCR). Their academic studies have been supported by the U.S. Department of Education Native American Studies Graduate Assistance in Areas of National Need (G.A.A.N.N.) Fellowship, the Dean's Distinguished Doctoral Student Fellowship, and the Max H. Gluck Arts Fellowship. Their research focuses on the history of the United States' House Ballroom Scene, in particular the West Coast Ballscene, and its involvement in how queer and two-spirit Native Americans of the Western Hemisphere have deployed the dance form of vogue (voguing/Performance) as a method of decolonization, anti-colonialism, transformational resilience, and queer Indigenous knowledge reclamation.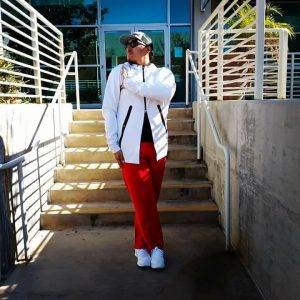 Photo credit: House of Lauren
---
Liz Przybylski
As an interdisciplinary scholar of popular music, Liz Przybylski specializes in Indigenous hip hop practices in Canada and the United States. A graduate of Bard College (BA) and Northwestern University (MA, PhD), Liz's work bridges ethnomusicology, musicology, gender studies, and Indigenous Studies. She has presented her research nationally and internationally, including at the Society for Ethnomusicology, Feminist Theory and Music, International Association for the Study of Popular Music, and International Council for Traditional Music World Conferences. Recent and forthcoming publications analyze how the sampling of heritage music in Indigenous hip hop contributes to dialogues about cultural change in urban areas. Liz has also published on popular music pedagogy. She was awarded a Fulbright Fellowship to conduct research with hip hop artists and music broadcasters in Winnipeg. Her ongoing work develops an innovative model of on- and off-line ethnography for the analysis of contemporary popular music. In addition to her university teaching, Liz has taught adult and pre-college learners at the American Indian Center in Chicago and the Concordia Language Villages program of Concordia College in Bemidji. A radio enthusiast, Liz hosted the world music show "Continental Drift" on WNUR in Chicago and has conducted interviews with musicians for programs including "At The Edge of Canada: Indigenous Research" on CJUM in Winnipeg. Liz currently serves as the Vice President of the Society for Ethnomusicology, Southern California and Hawaii Chapter and as the Media Reviews Editor for the journal American Music.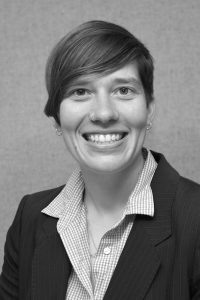 ---
José Luis Reynoso
José Luis Reynoso, dance scholar, performer, and choreographer, is Assistant Professor of Critical Dance Studies at UCR. Dr. Reynoso was the Andrew Mellon Postdoctoral Fellow in Dance Studies at Northwestern University (2012-2014). He completed his Ph.D. in Culture and Performance with a specialization in Dance Studies (2012) and a M.F.A in Choreography (2006) at UCLA. He also holds a M.A. (2003) and a B.A. (2000) in Psychology from California State University Los Angeles.
Dr. Reynoso writes and teaches about the history, theory, and practice of dance and other forms of cultural production focusing primarily on the U.S., Mexico, and other countries in Latin America. His interests focus on the roles that corporeality in general and dance in particular play in the production of knowledge and subjectivity. His work investigates ideological and political discourses embodied in dance making as well as in the formation of artistic identifications. It also examines how race, class and gender participate in the production of notions of post/modernity, post/modernism, and "contemporary Art." His book project explores the role that concert dance and vernacular forms of expressive cultures played in twentieth-century processes of modernization in post-revolutionary Mexico as these art forms converged to produce distinctive embodied "mestizo" modernisms.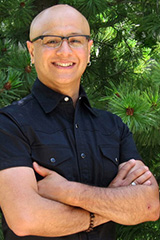 ---
Javier Stell-Frésquez
Javier Stell-Frésquez (Piru & Tigua Native American from El Paso, Texas) serves Indigenous communities of the Bay, on the Two-Spirits Powwow, and will co-produce a Two-Spirit performance festival in Spring of 2020 at CounterpulseSF. With life-long experience in many dance forms, and, more recently, vogue and performance art, she competes in the voguing House Ballroom Scene as "Xav ome'Lauren," a member of the House of Lauren.  She received a B.S. in Environmental Science with honors in Chican@ Studies from Stanford University. He also tours Mother the Verb internationally (next performance June 19 as part of the National Queer Arts Festival).

---
Rulan Tangen
Rulan Tangen's work explores movement as an evolving language of intertribalism rooted in diverse indigenous cosmologies, in functional ritual for transformation and healing, animating decolonization process, integrating concurrent universes of ancient futurities in the moment of now, expressing energetic connection with all relations – human and beyond. As Founding Artistic Director/Choreographer of DANCING EARTH, she has passionately cultivated successive generations of Indigenous contemporary performing artists as cultural ambassadors and conduits for social change.. She is recipient of 2018 Kennedy Center Citizen Artist award for Service, Justice, Freedom, Courage, and Gratitude – and is grateful for all that roots her, for the dreaming and doing of Dancing Earth : moving, shaking and stomping the world into renewal.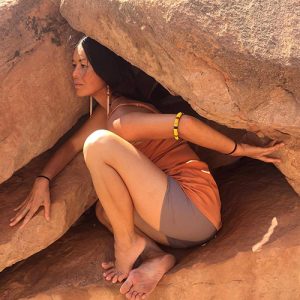 ---
Fabiola Torralba
Fabiola Ochoa Torralba is an immigrant who was born in Acapulco, Guerrero, Mexico and raised in the Westside of San Antonio, Texas. Her experience as a grassroots organizer and cultural arts worker has led to unique collaborations with artists, schools, galleries, and non-profit organizations for dancers ranging from inner city youth to senior citizens, refugees, Spanish speakers, LGBTQ groups, and fine arts students. Her research explores intersectional politics, decolonial epistemologies, and (im)migrant identities. They enjoy facilitating dance making opportunities for movers of all backgrounds that explore the relationship between performance and action.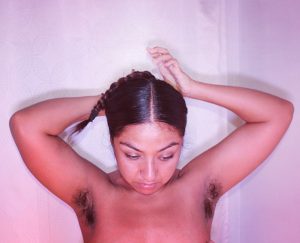 ---
Shash Yázhí Charley
Shash Yázhí Charley, was raised on the Diné (Navajo) reservation in New Mexico.  For the last 28 years Shash Yázhí, has implemented traditional Diné practices through working with activists and individuals who wish to create internal healing and balance in their lives. Shash Yázhí conducts individual sessions towards liberation and transformation to promote integrating and connecting the mind, body, heart and spirit.
Shash Yázhí Charley has been at the forefront of advocating for LGBTQ-Two Spirit equality and justice. Currently Shash Yázhí is holding space of embodying a traditional gender society called Four Direction Fire Keepers – Dilbaa and Indigenous gender queer/trans male.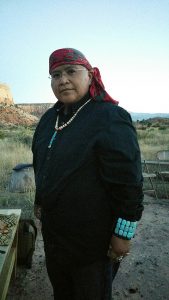 ---
Photo credit: Indigenous Choreographers at Riverside 2018/Jonathan Godoy